Kym Craven, Executive Director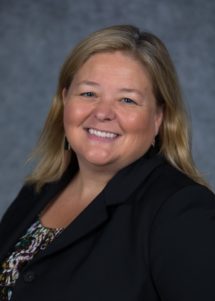 Kym Craven, is the Executive Director of the National Association of Women Law Enforcement Executives and the director of the Public Safety Strategies Group LLC.
Ms. Craven began her 32-year career at the Lowell, Massachusetts Police Department working in several areas including traffic safety, community engagement, and grants management.
During her career, Ms. Craven has provided assistance to over 350 municipalities and state agencies. She specializes in facilitating and conducting organizational, vulnerability, and technology assessments; strategic planning; survey development; data analysis; staffing analysis; police district boundary assessments; grant writing and management, along with assisting agencies implement the recommendations from the 21st Century Policing Task Force Report. Ms. Craven has led projects on: community policing, highway safety, homeland security, incident command systems, emergency response planning, and leadership training.
Recently, Ms. Craven has led police department organizational assessments, the development of the Youth Violence Reduction strategic plan and provided assistance in performance management strategies to guide the development of the strategy's dashboard. She led the development of the strategic plan for the Massachusetts Executive Office of Public Safety and Security (EOPSS), oversaw the work of five data analysts working on Statnet projects in 30 police departments. Ms. Craven has also provided public safety management consulting services to the City and County of San Francisco Police Department, The City of Boston Police Department, the State of Vermont, the Massachusetts Executive Office of Public Safety and Security, the Las Cruces, New Mexico, Police Department, the Pierce County, Washington, Sheriff's Department, the Dallas Area Rapid Transit Police, the State of Vermont, the Portsmouth and Hooksett, New Hampshire, Police Departments, the Town of Bridgton, Maine, the City of Somerville, Massachusetts, Harvard University and the Center for Campus Environmental Excellence (C2E2) for campus related security services.
Ms. Craven has significant experience with developing strategies to combat crime and securing funding for such initiatives. Grants secured include: community policing, multijurisdictional task force operation, gang reduction, juvenile justice delinquency prevention, substance abuse prevention, racial profiling data analysis, problem solving partnerships, police technology acquisition, COPS Ahead, COPS More, Secure our Schools, School Resource Officer program development and hiring, Community Development Block Grants and other related programs.
Ms. Craven holds a bachelor of science in criminal justice from the University of Lowell and a master of arts in criminal justice from Anna Maria College. Ms. Craven, a former police officer holds certificates in community policing, leadership facilitation, incident command, vulnerability assessments, emergency response planning, terrorism threat assessment, and numerous other criminal justice programs.
Ms. Craven is a member of the International Association of Chief of Police, New England Chiefs of Police, and the International Association of Women in Policing.