Motorola / NAWLEE Women Law Enforcement Executive of the Year Award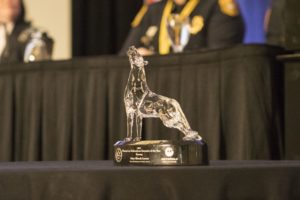 The information below describes the criteria and process for nominating someone for the award. 
Eligibility Criteria: 
Active  executive  member of  NAWLEE  for  at  least  one  year  from  the  date  of submission.

Nominated by anyone with knowledge of nominee's qualifications.

Special  achievements  and/or  contributions  to  improving  the  quality  of  law enforcement.
 Selection Criteria:
The Woman Law Enforcement Executive of the Year is a professional recognition of someone who has exhibited sustained extraordinary  professional  accomplishments. The nominations are assessed using the following criteria:
Impact   on   improving     women's    career    paths    and    advancement     in law enforcement.

Personal leadership and involvement achievements.

Innovation and creativity.

Measurable, observable special achievements and/or contributions to improving the quality of law enforcement.

Demonstrate   support   of   NAWLEE   goals   through    leadership, mentoring, advocating and advising.

Balance of results oriented performance with community satisfaction and employee perspectives.
Please submit your nomination below along with uploading a narrative, in Word on the candidate's qualifications commenting on each of the following areas: leading change, leading people, results driven, business acumen and building coalitions and communications. The definitions below might assist you in describing the nominee's accomplishments and contributions.

Leading Change: Shows creativity, initiative, flexibility, and innovation to produce results that are important to the service community. Indicate unusual vision in leading organizations or projects that have been successful. 

Leading People:

 

Demonstrates success in building and maintaining a Law Enforcement / Police work force that is diverse, well trained, highly motivated, and productive. Indicate how the nominee managed the capabilities  of employees and other people to build a shared vision, aligned support for the vision, and motivated and encouraged people to work together to achieve significant results. 

Results Driven:

 

Exceptional record of achieving important program or organizational results. Indicate measurable, observable, special achievements and/or contributions to improving the quality of Law Enforcement.

Business

 

Acumen: Has managed the organization's human, financial, material, and information resources in a manner that instilled the utmost public trust and advanced the organization's mission. Indicate specific business decisions and innovations that assisted in achieving or enhancing a departmental goal.

Building Coalition and Communication:

 

Exhibited an unusual level of cooperation and effort with others, whether within the organization, community, or other agencies. Indicate the specific actions that made this possible.
The NAWLEE/MOTOROLA Woman Law Enforcement Executive of the Year will be awarded to someone who has exhibited sustained extraordinary accomplishment in her career.
Feel free to consult others who have knowledge of the Nominee to complete the nomination.
If you have any questions, please email NAWLEE at info@nawlee.org or call 913-579-0003 and we will be happy to talk with you.