Full Time
Applications have closed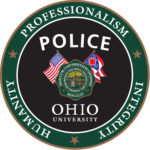 Website Ohio University Police Department
Ohio University is accepting applications for police candidates to create an eligibility list to be used to fill vacancies in the next year. Police certification not required to apply. Applicants must demonstrate a willingness to work with diverse populations to be successful.
Job Description:
Under general supervision, patrols grounds and buildings to protect lives and property, prevent crimes and enforce laws, investigate crimes. Carries firearms and/or makes arrests and testifies in court. Makes police presentations to groups and organizations.
Minimum Requirements:
• Must possess current Ohio Police Officer Training Academy Certificate OR achieve certification following employment.
• High School diploma or its equivalency required
• Valid driver's license required
• Must be a minimum of 21 years of age and successfully complete a written and physical fitness examination to be eligible for additional consideration
• Finalists will be required to undergo a psychological test, a polygraph, and a comprehensive background investigation
• Applicants must possess the basic skills of reading, writing and math competencies
• Successful applicants must meet Occupational Health Medical standards for the position and classification
You must apply on line at www.ohiouniversityjobs.com/postings/36674 and follow the instructions in the "Special Instructions to Applicants" field to be considered in the applicant pool.