Full Time
Applications have closed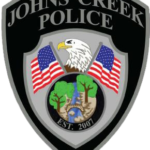 Johns Creek Police Department
The International Association of Chiefs of Police is assisting the Johns Creek Police Department in the search for the next Chief of Police. The successful candidate for the Johns Creek Police Department chief executive opportunity will have a proven record of integrity and leadership, management, and interpersonal skills to drive the Johns Creek Police Department's continued success as a professional and customer-focused agency.
Needs and Expectations
The Chief of Police in Johns Creek is expected to do the following:
Create a clear vision of and goals for success for the organization; develop and execute a strategic plan to achieve desired outcomes.
Balance the support of the police agency and anti-police climate across the county while building community trust.
Be effective in using data-driven methods and community-oriented policing to reduce crime.
Increase the transparency of the agency and develop effective two-way communication and transparency both within the department and with key community stakeholder groups.
Develop effective organizational leadership practices that provide effective succession planning and professional development for the police force.
Continue to implement the 21st Century Policing standards in all facets of the department.
Develop and implement a recruitment and retention plan to keep the staffing numbers at the authorized level; while increasing diversity and foreign language ability.
Continue to build on the training and technological edge the department is known for.
Utilize the strong support of the Johns Creek residents while continuing to meet their high expectations of the Police Department.
Develop and enhance local, state, and federal partnerships.
Knowledge, Skills, and Abilities
Key characteristics and competencies include but are not limited to:
Comprehensive and broad knowledge of the principles, practices, methods, and equipment employed in modern police administration.
Ability to build, sustain, and capitalize on positive external and internal relationships.
A demonstrated ability to promote sound community relations.
Capacity to build on previous successes, while driving continuous improvement.
Exceptional negotiation, conflict resolution, and communication skills.
A keen understanding of multicultural issues.
A keen understanding of diversity, equality, and inclusion.
Excellent verbal and written communications skills.
The ability to supervise and work effectively with a diverse workforce.
Exceptional customer service, negotiation, conflict resolution, communication, and presentation skills.
Team player capable of working with varying stakeholders.
Knowledge of budget development and/or administration.
Demonstrated ability to manage resources productively.
Have a strong understanding of and experience with technology and analytically based decision-making.
Qualifications
Minimum: Bachelor's degree from an accredited college or university. A minimum of three (3) years of experience command level (Lieutenant, Captain, Deputy Chief, or Chief) in a department with 50 officers or more
Preferred: Master's degree and/or demonstration of continued professional development such as graduation from a nationally recognized police management program, such as the FBI National Academy in Quantico, VA, Southern Police Institute, Northwestern University School of Police Staff and Command, PERF's Senior Management Institute for Police (SMIP), Harvard University's Senior Executives for State and Local Government Program, or a comparable advanced police management training program.
Licenses: Georgia Driver's License
Certification: Ability to obtain a Georgia POST Certification and Georgia Police Chief Certification
Salary and Benefits
$117,000 to $158,000 total salary compensation, commensurate with experience, plus a comprehensive benefits package.
To Apply
Submit resume and letter of interest via email to JohnsCreekPoliceChief@theIACP.org. Please include "Johns Creek Executive Search" in the subject line.