Full Time
Applications have closed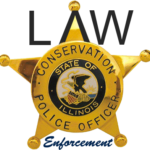 Website Illinois Department of Natural Resources- Office Of Law Enforcement
A fully sworn police agency focused on resource protection
Application Deadline:
May 31, 2021
SALARY INFORMATION
Entry Level:
$51,888 annual
Academy Graduate:
$64,668 annual
Top Pay:
$123,696 annual
JOB DESCRIPTION
ILLINOIS DEPARTMENT OF NATURAL RESOURCES IS CURRENTLY SEEKING QUALIFIED APPLICANTS FOR THE POSITION OF CONSERVATION POLICE OFFICER TRAINEE.
Job Duties include:
—Marked unit patrol enforcing all aspects of State law, including Conservation Law, Criminal Code, Vehicle Code, etc. (Full Police Authorization)
—Operation of a variety of watercraft, both large and small, during the course of duty
—Snowmobile and/or ATV patrol
—Covert Enforcement of Fish and Wildlife Laws, as well as Forestry Laws, Endangered/Threatened Species, and more
—Provide Safety Education Instruction in the following courses: Hunter Education, Trapper Education, Snowmobile Safety, Boater Safety
—Additional Opportunities Include: K-9 Handler, Invasive Species Investigator, Firearms Instructor, Defensive Tactics Instructor, Field Training Officer
—Upward Mobility Opportunities Include: Sergeant (District Supervisors and Specialty Positions), Lieutenant (Specialty Positions), and Captain (Zone Commanders)
ADDITIONAL INFORMATION
—Competitive pay and benefits, including affordable, employer-sponsored health care, dental, and vision
—Furnished equipment
—Take-home patrol vehicle
—Flexible scheduling (some weekends off)
—NO COMMUTE, shift begins and ends at Officer's residence
—And much more
Salary:
Trainee (Probationary)- $51,888
Entry Level (after 1-year probationary period)- $64,668
Top End- $123,696
(Plus contractual raises, annually, through 2022)
Website: https://www2.illinois.gov/dnr/LawEnforcement/Pages/ConservationPoliceOfficerCareerOpportunities.aspx
For additional information, please contact your local OLE Recruiting Officer:
CPO Tom Davis (McHenry Co.) – Northeast Zone Recruiting Officer
Email: thomas.davis@illinois.gov Phone Number: 847-404-3596
CPO Isaac Gerard (Woodford Co.) – Northwest Zone Recruiting Officer
Email: isaac.gerard@illinois.gov Phone Number: 309-214-0203
CPO Chase Sanford (Vermilion Co.) – Central Zone Recruiting Officer
Email: chase.sanford@illinois.gov Phone Number: 217-361-9982
CPO Roberto Macias (Clinton Co.) – Southern Zone Recruiting Officer
Email: Roberto.macias@illinois.gov Phone Number: 618-713-2705
JOB REQUIREMENTS
Age: 21
Education: Bachelor's Degree (any field) OR see education exemptions
Experience: NONE
Minimum Qualifications:
•21 years of age upon date of hire
AND
•4-year Bachelor's Degree (any field)
OR
•Associate's Degree AND three years of Law Enforcement experience (single agency)
OR
•Military service (Active, Reserve, or National Guard), currently serving or honorably discharged, with one or more of the following medals: Afghanistan Campaign Medal, Iraq Campaign Medal, Global War on Terrorism Expeditionary Medal, Southwest Asia Service Medal, Kosovo Campaign Medal, Korean Defense Service Medal
++Application (CMS 100): ++https://www2.illinois.gov/sites/work/Documents/pdfs/app_cms100.pdf
Mail completed application to:
IDNR OLE
Attn: Curt Stephens
One Natural Resources Way
Springfield, IL 62702
OR
Submit to:
curt.stephens@illinois.gov
Applications must signed and post marked/digitally submitted by May 31, 2021.
Hiring Process:
•Application Submission (CMS 100)
•Physical Fitness and Swimming Proficiency Tests
• In-person Interview
• Psychological Examination
• Background Investigation
Unless previously certified as a Police Officer in Illinois, selected applicants will be required to complete a paid, 14-week police certification at the Illinois State Police Academy. An additional paid, 14-week Conservation Academy must be completed as a condition of employment. During these training academies, selected applicants will be provided meals and lodging on-site, Monday-Friday.
CONTACT INFORMATION
IDNR Recruitment
dnr.lawtraining@illinois.gov
Illinois Conservation Police
Springfield, Illinois 62702