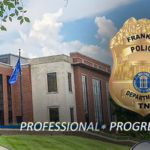 Website https://twitter.com/FranklinTNPD?ref_src=twsrcgoogletwcampserptwgrauthor Franklin Police Department
Police
Police Officers
Entry Level Police Officer Trainee Salary $21.15/hour, or $44,000 per year.
POST Certified Police Officer Salary $22.84/hour, or $47,500 per year
After successful completion of probation and training, salary increases to $24.03/hour, or $50,000 per year.
Testing for Police Officer will be held on July 12 & July 13, 2021. Qualified applicants will be contacted with test day instructions upon successful completion of the application.
Patrols an assigned district in a patrol car, bicycle, or on foot, to observe assigned area for possible criminal activity or other conditions that could endanger public safety; investigates complaints and enforces laws; maintains high visibility.
Responds to requests for assistance by, or complaints from, the public via the dispatcher.
Identifies, investigates, and reports accidents, dangerous or defective streets, sidewalks, traffic lights, or other hazardous conditions to the appropriate departments or agencies.
Investigates crimes, interviews witnesses, complainants, and victims; gathers physical evidence and preserves such evidence for court use; conducts follow up investigations if necessary.
Apprehends, arrests, and detains criminal suspects and law violators when necessary; follows proper procedures when making arrests to ensure the safety of arresting officer, the public, and the suspect.
Enforces all applicable laws of the State of Tennessee and the City of Franklin; notes suspicious persons and establishments and reports to superior officer.
Maintains responsibility for the upkeep of patrol car and any related equipment that is the property of the City of Franklin.
Assumes control at traffic accidents to maintain smooth traffic flow, assists traffic accident victims, and investigates causes of accidents.
Completes paperwork related to policing duties.
Job Content Knowledge:
Has thorough knowledge of the policies, procedure, and activities of the City and law enforcement practices as they pertain to the performance of duties relating to the position of Police Officer. Has thorough knowledge of law enforcement and standard police practices as necessary in the completion of daily responsibilities. Has thorough knowledge of current criminal including laws of arrest, rules of evidence, and courtroom procedures Has thorough knowledge regarding modern criminal investigation techniques, principles and methods and how they relate to law enforcement and police work. Knows how to keep abreast of any changes in policy, methods, computer operations, equipment needs, etc. as they pertain to departmental operations and activities. Is able to effectively communicate and interact with supervisors, and all other groups involved in the activities of the department. Is able to use independent judgment as situations warrant. Has comprehensive knowledge of the terminology, principles, and methods utilized within the department.
Qualifications
Education and Experience:
The required knowledge, skill, and abilities to satisfactorily perform job duties are acquired through attainment of an Associate's degree (A. A.) or equivalent from two-year College or technical school; or six months to one year related experience and/or training; or equivalent combination of education and experience.
Required Certifications/Licenses:
At least twenty-one years of age
Valid driver's license
Apply Now :   http://www.franklintn.gov/government/human-resources
Contact Human Resources at (615) 791-3216 for more information regarding our hiring process.