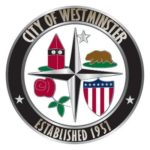 Website City of Westminster, CA
The City of Westminster was incorporated in 1957 and is located in northwest Orange County, California. With a population of approximately 90,000, Westminster is culturally diverse with its rich blend of residents, businesses, and tourists from many ethnic backgrounds and cultures. The City of Westminster is seeking an experienced law enforcement professional with demonstrated leadership capabilities to be the new Police Chief. The ideal candidate will be a service-minded individual with excellent communication and interpersonal skills and the ability to listen. He/she will be an individual who is empathetic, compassionate, respectful, honest, and ethical; and will possess the highest levels of integrity. Candidates that are politically astute but apolitical will do well in this process. The new Chief will welcome and embrace the rich diversity of the Westminster community and its unique character.
Any combination of training and experience that would provide the required knowledge, skills, and abilities is qualifying. A typical way to obtain the required qualifications would be: Equivalent to graduation from an accredited four-year college or university with major coursework in criminal justice, police science, public administration, or a related field, and seven (7) years management and/or administrative experience in police service. A current rank of Captain or equivalent is highly desirable. A Master's degree is desirable, as is graduation from the FBI National Academy, POST Command College or the California Police Chiefs Executive Leadership Institute. Possession of a Management Certificate issued by the California State Commission on Peace Officer Standards and Training (P.O.S.T.) is also desirable.
The salary range for the Police Chief is $13,250-$16,910 per month; placement within this range is dependent upon qualifications. The City also offer an attractive benefits package.
Please visit www.bobmurrayassoc.com to apply online. If you have any questions, please do not hesitate to call Mr. Joel Bryden at (916) 784-9080, should you have any questions.