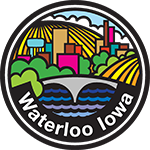 Website City of Waterloo
Diverse municipality of 69,000 residents with 120 officers.
Submit resume by going to www.cityofwaterlooiowa.com, clicking on Career Opportunities, reviewing the Police Officer Recruit description and following directions to submit cover letter and resume.  We will not accept mailed, faxed, hand-delivered or directly emailed resumes.  Do not submit resume directly to Police Department – it will not be processed.  Deadline to submit resume is Noon on Friday, April 23, 2021.
$27.19 ($56,555.00 annualized) starting salary plus full benefits & State-mandated pension
Entry level position responsible for protection of life and property, prevention of crime through patrol and/or directed activities, enforcement of State and local laws and ordinances relating to criminal and traffic violations, and solution of crime through preliminary investigation, identification, apprehension and conviction of criminals; other duties as assigned.
MINIMUM QUALIFICATIONS
1.         Eighteen years of age by the application deadline date.  Verification of birth date will be required at a later date.
2.         Uncorrected vision not less than 20/100 in both eyes, corrected to 20/20, and color vision consistent with the occupational demands of law enforcement.  Will be verified as part of a post job offer physical examination.  (Will be operating police vehicles in a variety of weather conditions and at night, must be able to clearly identify suspects, must be able to move quickly and safely to apprehend suspects or respond to and report on traffic accidents, perform traffic control and watch duties; able to identify suspect clothing and vehicles and see and respond to traffic lights when on a call or in vehicle pursuit).
3.         Normal hearing in each ear.  Will be verified as part of a post job offer physical examination.  Hearing aids are acceptable if a candidate can demonstrate sufficient hearing proficiency to perform all necessary duties of a law enforcement officer.  (Able to communicate through police radio and interact with members of the public and other officers.)
4.         United States citizen and able to provide documentation if requested; resident of Iowa or intend to become a resident upon being employed; willing to comply with the City of Waterloo Residency Policy for Critical Employees within two years of hire date (must live within thirty mile radius of Waterloo City Hall).
5.         High school graduate or equivalent certificate that meets at least the minimum scoring requirements by the State of Iowa as determined by the State Department of Public Instruction, by the application deadline date.  Verification of high school graduation//equivalent will be required at a later date.
6.         No current alcohol or drug addiction; must have been rehabilitated for a least one year and not presently undergoing treatment; must successfully pass a drug test as part of a post job offer physical examination.
7.         Legally able to carry a weapon; an employee who loses this right will be immediately terminated.
8.         Able to speak, understand, read, and write the English language.
9.         Must possess a current driver's license from state of residence and good driving record based on City of Waterloo driver performance criteria.
10.         Must be of good moral character as determined by a thorough background investigation including a fingerprint search conducted of local, State and national fingerprint files and must not have not been convicted of a felony or a crime involving moral turpitude.  The City of Waterloo will also conduct a post job offer polygraph test.  A candidate who does not meet these standards will be eliminated from consideration.
11.       Is not by reason of conscience or belief opposed to the use of force when necessary to fulfill job duties.
12.       Following a conditional offer of employment the City of Waterloo and the State of Iowa require a physical examination by a physician of the City's choice, including a drug test, to determine if an applicant is capable of fulfilling the responsibilities of this job classification.
13.       Required to submit to and pass Civil Service Examination testing procedures including written cognitive (basic skills) testing, physical fitness testing, polygraph, psychological and oral interview testing.  If hired, required to obtain State of Iowa certification for Police Officer by attending training classes at the Iowa Law Enforcement Academy or other educational institution as approved.  Failure to successfully complete this program for any reason will result in termination.