Full Time
Applications have closed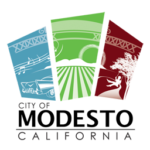 Website City of Modesto
A national search is underway to attract highly qualified candidates to lead the City of Modesto Police Department. Recent events around the country have underscored the need for, and importance of, lasting collaborative relationships between police and the community. Modesto seeks a proven reform-minded leader with top-notch communication skills and a commitment to transparency who will thrive in this dynamic organization. With a FY2020/21 budget of $70,666,780 million, the MPD has a total of 291 full-time employees, including 194 sworn officers and 97 civilian employees working in one of three divisions (Investigative Services; Operations; and Support).
This position requires the equivalent of a Bachelor's degree and 7 years of increasingly responsible experience in police work. Management or Executive POST Certificate is desired. The City of Modesto is offering a competitive compensation package. Offered salary will be dependent on the selected candidate's qualifications and education (DOQE).
To be considered, candidates should apply by June 21, 2021 by emailing a compelling cover letter, comprehensive resume, and six professional references to apply@ralphandersen.com. Confidential inquiries are welcomed to Robert Burg, Ralph Andersen & Associates, at (916) 630-4900. Detailed brochure available at www.ralphandersen.com.