Valerie Cunningham, Past President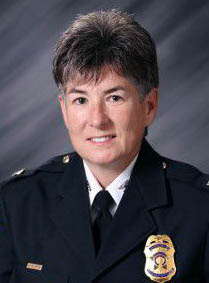 Valerie Cunningham is the deputy chief of the Administration Division for the Indianapolis Metropolitan Police Department. Deputy Cunningham became a member of the department in 1992.  In her 26 years with the department she has served in an executive role as Deputy Chief of both the Patrol Operations and Administration Division. Deputy Cunningham also served as the interim chief of police (2016-2017).
While rising through the ranks, Deputy Cunningham held positions as a sergeant in Internal Affairs, a district Narcotics Unit supervisor, a Uniform Patrol supervisor, and as an executive officer to a deputy chief. As a lieutenant, Deputy Cunningham worked in the Homeland Security Division, Traffic Branch and Special Events Planning. Cunningham is one of only six women to serve as a motorcycle officer.
Deputy Cunningham is a member of the national Officer Safety and Wellness (OSW) group assembled by the Office of Community Orientated Policing Services and Bureau of Justice Assistance in 2011 to bring attention to the safety and wellness needs of law enforcement officers.
Deputy Cunningham holds a bachelor of arts degree in exercise physiology / movement and sports science from Purdue University, is a graduate of the 240th session of the FBI National Academy, and the 48th session of the Senior Management Institute for Police.
Deputy Cunningham, in addition to being a member of NAWLEE since 2014, is an active member of the IACP and the FBINAA.