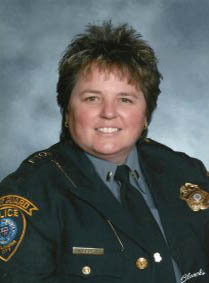 Tammie Reeder is an Operations Lieutenant for the Oklahoma City Police Department.  Lieutenant Reeder became a member of the Oklahoma City Police Department in 1990.  In her 29 years with the department, Lieutenant Reeder also served in the Administration Unit in logistical support as a Jail Supervisor.
While ascending to the current rank, Lieutenant Reeder has been a Field Training Officer since 1994 and currently serves as a Field Operations Field Training Supervisor.
Lieutenant Reeder has served as an instructor with in service updates and current operating procedures.  She has also served as a practicums instructor for the police academy.
Lieutenant Reeder holds a Bachelor of Science degree in Criminal Justice from Cameron University.
Lieutenant Reeder, in addition to being a member of NAWLEE since 2009, is an active member Oklahoma Gang Investigators Association and serves on the Board for Justice for a Cure.  She is also a member of Heart 911 and helps raise money for a local nonprofit in Oklahoma City, Project31.