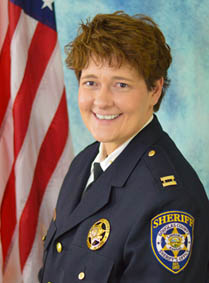 Stacy Simmons is the Training and Special Projects captain with the Douglas County Sheriff's Office in Lawrence, Kansas.  Captain Simmons became a Deputy Sheriff in 1998 and has spent over 20 years with the Sheriff's Office.
Her career path has seen many assignments in both the Corrections and Operations Divisions. As a deputy, she worked in Patrol, Court Room Security, and as a Housing Unit officer. As a sergeant and lieutenant, she was assigned to the Training Division.  Other responsibilities included acting as a supervisor Booking, and was a shift supervisor in both the Corrections and Operations Divisions.
Captain Simmons implemented a 12 Corrections Academy, Sheriff's Office Citizen's Academy, taught classes in Oleoresin Capsicum, report writing, car stops, sovereign citizens, legal issues, and many others. Captain Simmons has also been an instructor for the Kansas Jail Association.
Captain Simmons is a Certified Public Manager from the University of Kansas, holds an Associate's Degree in Criminal Justice, and a Bachelor's Degree in Business Administration from Baker University.