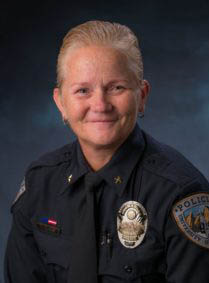 Paula Balafas is the commander of the Professional Standards Division of the University of Colorado Boulder Police Department.  Commander Balafas has been with the department since 2017, and served as the interim chief for four months in 2018.
Paula has nearly 30 years in law enforcement, serving with the Denver Sheriff's Department (1989-1993), the Wheat Ridge Police Department (1993-2013) and the Cherry Hills Village Police Department (2013-2017), prior to becoming part of the University of Colorado Boulder Police Department team.
During her career, Commander Balafas has held positions as a patrol sergeant, administrative sergeant, crime prevention sergeant, and professional standards sergeant.   She has also supervised field training programs, volunteer programs, and a physical fitness program.
Paula has served as a skills instructor for arrest control and firearms.
Paula holds both a bachelor of art and a master of art in English from the University of Colorado at Boulder.
In addition to being a member of NAWLEE since 2000, Paula is an active member of the International Association of Chiefs of Police and International Association of Campus Law Enforcement Administrators.  Commander Balafas served as the NAWLEE associate member at large from 2010-2013 and collaboratively hosted the 2013 NAWLEE annual conference Denver.