Lynette Falzone, Secretary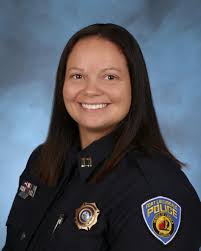 Lynette Falzone is currently a captain with the Fort Lauderdale Police Department. She is assigned as the Special Investigations Division Commander. The Special Investigations Division is responsible for the department's Technical Services Unit, the Threat Response Unit, the Drug Enforcement Vice Unit and the Major Narcotics Unit. Prior to being assigned to Special Investigations, Lynette served as the Captain of the Operations Support Division, overseeing units such as K-9, the Dive Team, the Marine Unit, the Field Training Officer Program, the School Resource Officers, Youth Services and other department programs and initiatives. As a Lieutenant, Lynette served in the Criminal Investigations Division as well as a Shift Commander in the Patrol Division. Previously, Lynette served as the Sergeant of Property Crimes Unit, a Patrol Sergeant, a Detective, a Narcotics Canine Handler, and as a Patrol Officer. Lynette has served part-time on the Civilian Police Review Board, the department Hiring Committee, department Hiring Assessments, and the Recruiting Team. Lynette has been with the Fort Lauderdale Police Department since 2000. Prior to working at FLPD, Lynette was a communications operator with the Broward Sheriff's Office.
Lynette's extensive role as instructor includes teaching first-supervisors of police and fire services critical leadership skills at the Public Safety Leadership Academy. She is also an adjunct instructor at the Broward Police Academy. She has previously instructed in areas of officer survival, firearms, general patrol tactics and defensive tactics for her police department. Lynette also volunteers with the Concerns of Police Survivors organization.
Lynette obtained her Master's degree in Administration with a Graduate Certificate in Emergency Management and Planning from Lynn University (graduated magna cum laude with honors); her Bachelors of Science in Criminal Justice Management from Lynn University; and an Associate of Arts in Psychology from Broward College. Professional education in the field includes completion of the Command Officer Development Course from the Southern Police Institute as well as completion of the Florida Leadership Academy from the Florida Department of Law Enforcement.
In 2017, Lynette was awarded the International Association of Chiefs of Police 40 under 40 Award, as well as a scholarship award from the National Association of Women Law Enforcement Executives.  In August of 2019, Lynette graduated from the Center for Homeland Defense and Security Naval Postgraduate School, Executive Leadership School.
Outside of work, Lynette is a proud mother who enjoys time with her family. As a Florida native, Lynette enjoys traveling and many outdoor hobbies.