Cris Cunningham, Member at Large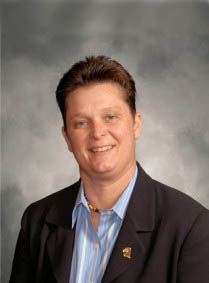 Cris Cunningham is an inspector/ master sergeant with the Oklahoma City Police Department.  She started her career with Oklahoma City in September 1992.  In her 26 years with the department she has worked in both the Investigations and Operations Bureaus.  She has also worked in the chief's office as the Assistant Public Information Officer.
Master Sergeant Cunningham has held positions in patrol operations, and on the Street Level Drug Enforcement Unit and the Community Relations Unit.  While serving in the Community Relations Unit she was responsible for implementing a new Gun Resistance and Violence Education program (G.R.A.V.E.) into the Oklahoma City School system based on the Options Choices and Consequences program in Seattle, Washington.
As an investigator she has been assigned to the Child Abuse, Assaults and the Homicide units.
Master Sergeant Cunningham was also directly involved with the development of the CARETRAK program at the Oklahoma City Police Department. The program was presented to members of command staff and approved for development.  CARETRAK is a radio frequency based search program for citizens with Alzheimer's, traumatic brain injury, and other qualifying medical issues.  The program is a partnership with Sunbeam Family Services.
Master Sergeant Cunningham has been an instructor for the department and the recruit academy, citizen's police academy, and the State of Oklahoma, Council on Law Enforcement Education and Training and the Oklahoma State Bureau of Investigation on death investigation and officer involved shooting investigations.
Master Sergeant Cunningham has conducted presentations to many citizen organizations, law enforcements associations, and the FBI National Academy in Quantico, Virginia.
She holds a bachelor of arts degree, in criminal justice administration with minors in psychology and sociology, from the University of Oklahoma.